Interview with Patrizia Sandretto Re Rebaudengo, President of the Fondazione Sandretto Rebaudengo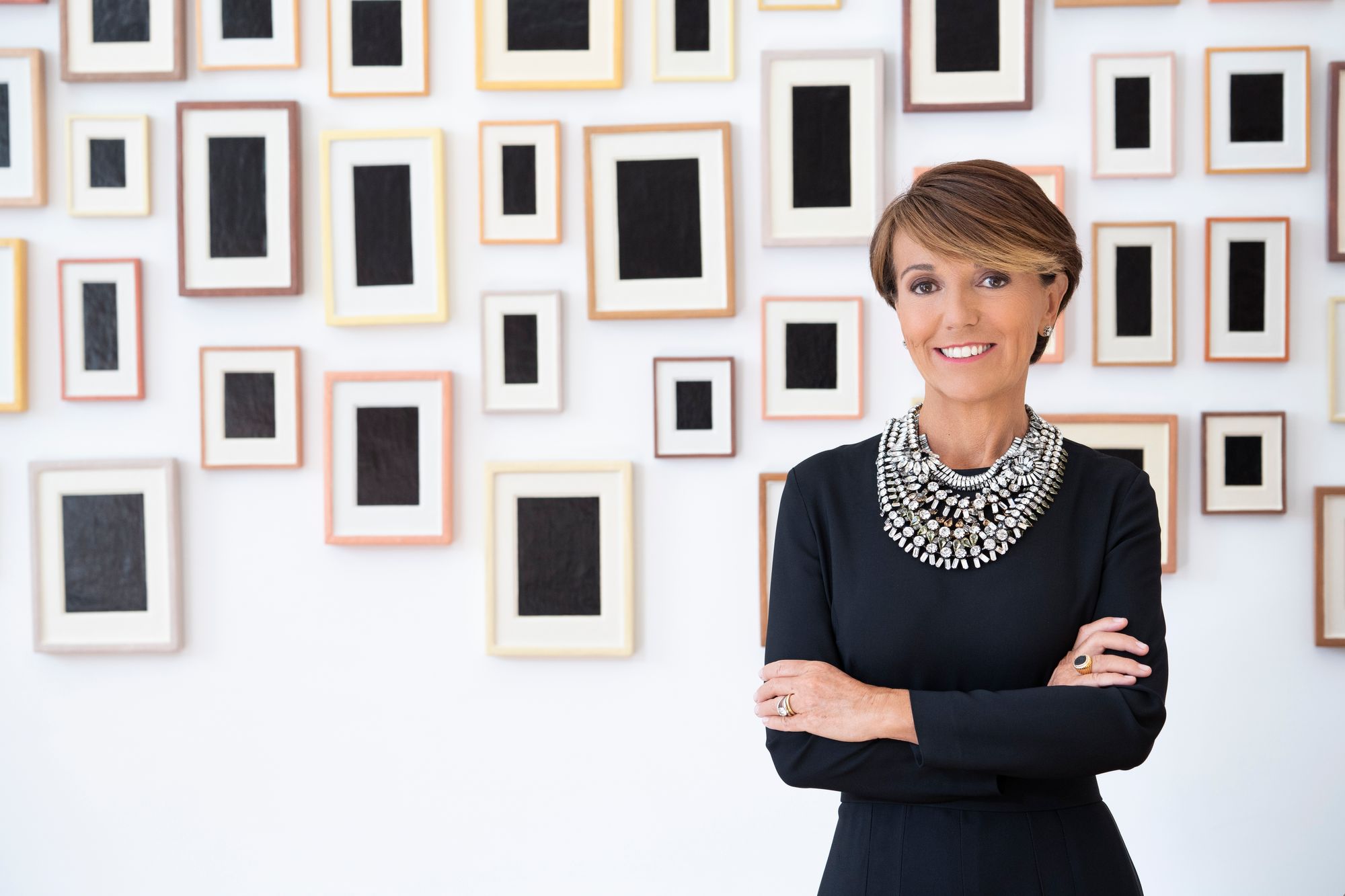 Patrizia, could you tell us a little bit about your art background, and how you initially became involved in contemporary art?
After I graduated in Economics and Commerce, I worked in my father's company and started tocapproach contemporary art as a collector in the early 90's. My journey in London, in 1992, played a fundamental role in my involvement with contemporary art. I visited many museums and galleries, above all I started to get to know the artists, to visit their studios and to establish an authentic relationship with many of them. Meeting these artists opened up a new world for me.

How did your background in collecting influence your interest in the formation of the foundation?

I had the privilege to meet many gallerists, museum directors and curators but most of all artists; and I had the chance to talk with them about their works. This was a great gift that I immediately wanted to share somehow with others. So, I decided that I would become more active in the contemporary art world. The desire to support young artists, to share my Collection and to bring an ever- growing public closer to contemporary art led me to establish the Fondazione Sandretto Re Rebaudengo in 1995. The Fondazione is a nonprofit institution which has two exhibition venues: Palazzo Re Rebaudengo, an old family villa, in Guarene only 40 km from Torino and the Fondazione's headquarters in Turin.

Could you tell us a bit about your collecting practice, what kind of art are you interested in and why?

My Collection started as a "generational" collection. It grew out of my friendships with artists of my same age and these days I also support and work with the young generation of artists from, more or less, the same age of my sons: a new generation. I can say that I never bought names but works. It was never with the aim of decorating my home. I only buy works that give me strong emotions. Works that are able to capture the present, and to anticipate the future.

What are the main goals for the foundation?

The Fondazione has three main aims, the first one is to support and promote artists through commission, production, and exhibition of new works. The second is to educate and widen access to contemporary art and the last one is to create partnerships with national and international institutions (from Museo Egizio in Turin, Whitechapel Gallery in London to Contemporary Art Museum of Quito and to Rockbund Art Musem in Shanghai...).

What are your thoughts on the role of technology in collecting, and in arts foundations?

My approach to commissioning, acquiring, and exhibiting contemporary art has always included new technology. The digital is now everywhere, and if you employ the word in a broad sense, today most art is produced thanks to the technology. Not to mention the importance of the internet for any artist working today.
For this purpose, a few years ago, the Fondazione started a great collaboration between the Philadelphia Museum of Art: The Future Fields Commission in Time-Based Media. Every two years we invite and commission a new work by an artist working with different medium such as film, video, sounds and performance. The objective of this co-commissioning and co- acquisitioning project is to encourage the artist and the creation of mediums linked to technology which might be hard to collect and preserve for a private collector.

How does art play a role in trying to educate audiences?
Since the beginning, I deeply believe that understanding the arts is a vital component of every person's education and development. For this reason, one of the main aims of the Fondazione is to educate and widen access to contemporary art. Our Education Department organises and implements activities that are dedicated to schools, young people, adults, teachers, families, and people with disabilities (deaf, blind, etc...). Over the years, this dialogue with students,
teachers, managers of schools, and institutions in our area, has led to the creation of numerous experimental programmes; the result of intense collective experiences of planning. Every year we welcome more than 25 thousand students at the Fondazione.

How has Arteïa helped in managing the foundation's art collection and which feature do you find most useful?

Arteïa is the first collection management platform that I have begun using and that we are using in Fondazione. This online database is a great way to keep my Collection under control. I really appreciate the different functionalities that the platform offers. I particularly like the possibility to include documents in the artwork's sheets. In a unique page you can find different kind of information about the works and you can share them with your contacts by selecting the specific details you want to send.

Would you recommend Arteïa to other art foundations and collections?

I would surely recommend Arteïa to every collector, or cultural institution which have to deal with artwork, and which need to follow the thread of their collections. Arteïa particularly helps the dynamic collections which always have works loaned all around the world. And it can also be a very precious tool for archival and conservation purposes. This platform is very intuitive, easy to use and allows every user to create very detailed documents on each artwork, artist, and contacts.

How has COVID affected the foundation and its projects?

During this period, the doors of the Fondazione have been closed but we stayed virtually open. Obviously, the schedule of the Fondazione has been changed due to the lockdown period but also due to the sanitary measures we must now respect. However, we continued to create new projects and we adapted our approach to the different audiences creating more digital content especially for schools and children.

For example, we have started making digital commissions that we published on our website - this is not something we have never done before. On our website we implemented a brand-new section on which we show digital artworks from ad hoc commissions for this web platform.

What are some of the foundation's future goals for this year and beyond?

In the next years, our ambitions for the foundation are to continue to support artists materially and financially by commissioning and producing new works. Also, to maintain our efforts to educate and widen access to contemporary art by focusing our attention on art mediation, education, and training through our two programmes: the Young Curators Residency Programme and the CAMPO course for Italian curators.

For the future, next to Turin, I have two places in my heart: Madrid and a vineyard in the Roero hills in Piemonte. The next goal is to give a home to the Fundación Sandretto Re Rebaudengo Madrid, born in 2017. The second project is the San Licerio's Sculpture Park, in Guarene, not far from Palazzo Re Rebaudengo. Every year we commission one of the most promising young artists on the international scene to create a large-scale sculpture, which is installed on the hill, free to visit all year round.

This Sculpture Park is our contribution to the wonderful landscape of the Langhe-Roero, part of a UNESCO World Heritage Site. These selected public works aim to explore and reflect upon the delicate relationship between nature and culture.
---